A VERY SPECIAL WALK 2011 ON 16 JULY 2011: A POST EVENT COVERAGE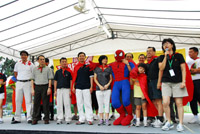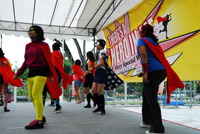 AMOUNT RAISED: $582,363
16 July 2011 was a lovely, breezy, cloudy morning - perfect for walks. And yes, that was the day of A Very Special Walk (AVSW) 2011 jointly organized by Autism Resource Centre (S) and Pathlight School. The objective of the Walk was to raise $500,000 to create and support Post-School Options for employment and purposeful engagement in leisure and community activities for persons with autism.

The theme of this year's event was: "There's a Hero In Me". Many participants arrived in a myriad of costumes: Wonder Woman, Batman, Spiderman, Joker, Muscleman… This lightened up the mood and created many photo opportunities. Red Superhero capes were given to all participants and they added much cheer and colour to the event.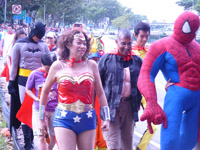 The teachers and staff led a mass dance demonstration on stage which provided the mood for walkers to stretch their muscles, and got everyone ready for the walk from Pathlight School to Bishan Park and back. Students of Bishan Park Secondary School and Chong Boon Secondary School volunteered as Road Marshalls and First Aiders. They worked in pairs with Pathlight Students to ensure the safety of walkers.
The walkers enjoyed their leisurely stroll and came back to Pathlight School to replenish their energy with snacks and drinks sold by Pathlight students, staff and volunteers. Many bought beautiful sculptured balloons of teddy bears, angry birds, Pink Panther, bouquets, octopuses that sold out like hot cakes. Others had their faces painted and chose Superhero costumes to take memorable photographs for their albums. Children attempted and were delighted with the sand art pieces they created!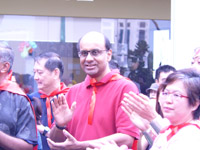 The audience including Guest of Honour, Deputy Prime Minister, Mr. Tharman Shanmugaratnam was delighted by dances and percussion pieces performed in perfect rhythm and co-ordination by students from Pathlight School, Townsville Primary School and Dance Spectrum International. What was usually the football field became a picnic ground as the audience sat down, enjoyed the wonderful weather and performances. Many took part in the Best Dressed Competition, and went home full of Superhero prizes!

Chairman of AVSW 2011 Ms Loh Wai Mooi announced, to the applause of the entire audience, that we had garnered a total donation of $582,363, above the targeted amount of $500,000. Not only did AVSW 2011 bring everyone together for fun and exercise, it also brought in much needed funds for youths and adults with autism to help them lead more fulfilling and meaningful lives!
---
More Photos!